Written by Amy Porter
Josefa is a 30-year old indigenous Maya woman from the town of San Pablo, on the shores of Lake Atitlán. The youngest of six children, she grew up in a big family, with aunts, uncles and cousins nearby.
As a young girl, Josefa dreamed of getting married, having a house and children. In 2007, she married her husband, Domingo. They moved in together with plans to begin the family they had always dreamed of. But while her friends, brothers and sisters began having babies, it didn't happen for Josefa.
"After we married, we wanted a baby. After a year, nothing had happened. Another year, still nothing... When I saw my brothers and nieces having their children, I didn't feel good… I felt so anxious... was I going to be a mother, or not? I felt lonely, and desperate."
Josefa and Domingo began to save their meagre salaries to see a specialist. With Domingo's job as a labourer, earning $5 a day, and Josefa cleaning houses for even less, it wasn't long before they simply couldn't keep up the payments for the expensive private doctor's visits.
Finally, Josefa heard about ODIM's clinic in San Pablo, and came for her first consultation.
Dr. Georgina remembers this day. "When I first met Josefa, she was incredibly upset at the idea of never becoming a mother. She complained of pain in her abdomen, so we referred her to a hospital for scans, and we provided low cost treatment including ultrasound scans here at the clinic. We helped Josefa begin a diet and exercise regime, which she and her husband embraced together. We wanted to ensure that Josefa's body was as healthy as possible, ready to carry a baby."
Months later at a follow-up appointment, Dr. Georgina gave Josefa some incredible news – after ten years of hoping, praying and dreaming of this day, Josefa had finally fallen pregnant! Josefa was delighted! But now, she and her baby really need our support.
"Thanks to God, and to this clinic, for my improved health and this pregnancy… I'm so grateful, because it's been a miracle for us. I found hope here!" - Josefa
Childhood malnutrition in Guatemala
Guatemala has one of the highest child malnutrition rates in the world, at 49%. In the majority indigenous region of Sololá, where San Pablo is located, the rate is estimated to be much higher, at 72%. Widespread poverty and lack of access to education contribute greatly to this trend.
When a baby is deprived of vital nutrients during its first 1000 days of development - from conception to its second birthday - the consequences are often severe. Malnutrition inhibits healthy brain development, resulting in cognitive impairment. The effects are also physical - 50% of Guatemalan children under the age of 5 suffer stunted growth as a result of malnutrition. The consequences of childhood malnutrition are also far-reaching. Low levels of educational attainment commonly lead to difficulties accessing skilled employment and drastic losses in earning potential. Individuals who suffer malnutrition as infants are more susceptible to chronic illnesses, which can diminish quality of life.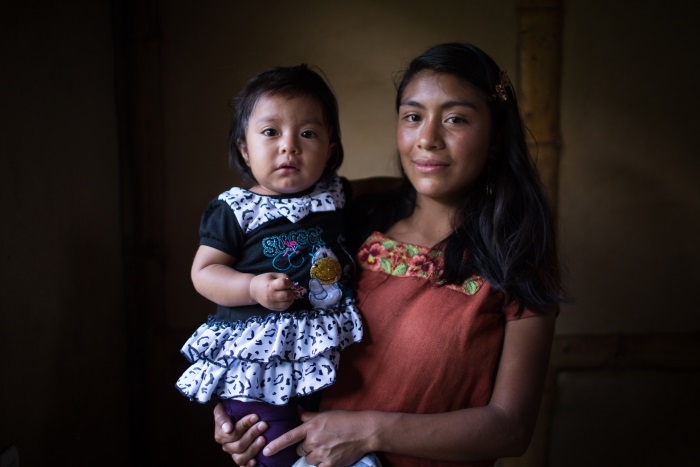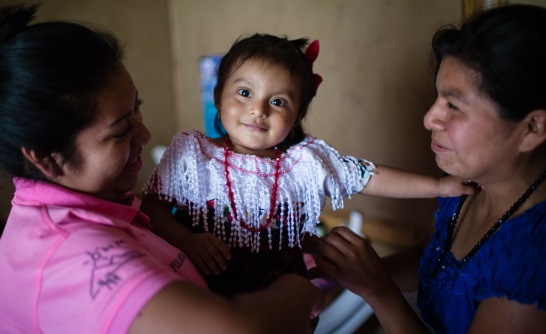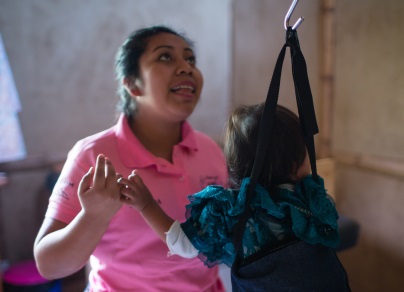 Healthy Mommy & Me: a holistic approach
Josefa is enrolled in our Healthy Mommy & Me initiative, which focuses on these vital first 1000 days of life. By combining dedicated healthcare with practical support – health check-ups, nutrition workshops, cooking classes and a mother's support group - ODIM aims to give women all the support they need to raise healthy, happy babies. All the women also receive support with birth planning and a safe birthing kit which helps safeguard women from the risk of childbirth-related complications, including maternal death. This is particularly vital, because San Pablo is located 90 minutes from the nearest hospital, by local tuk-tuk, boat and bus.
When ODIM's first group of Healthy Mommy & Me participants graduated in 2017, after over two years in the program, 71% of the babies achieved normal, healthy growth rates. This is proof of the profound difference that our program has already made for women like Josefa, and their babies!
Our Healthy Mommy & Me staff have encouraged Josefa at her monthly check-ups, dispelling her worries, and provided prenatal vitamins and fortified food supplies. She is looking forward to joining our new mom's support group once her baby is born, and has high hopes for his or her future:
"I wish many things for my baby… One day, I'd love my son or daughter to be a nurse, or a doctor, if God wills."
How can I help?
We can't help people like Josefa without supporters like you!
Thanks to you, we can offer medical consultation and treatment at highly subsidized rates, making healthcare accessible to those who suffer most from the poverty which grips these remote communities.
Become one of ODIM's first ever Health Allies with a monthly donation to support our work. We'll keep you updated about the exciting work your money is supporting!
"I'm so grateful for the clinic, and all the people who send funds and medicines. I hope they'll continue to do that, because our resources are so scarce. This clinic really helps us." - Josefa
Josefa would love to hear from you. You can send her a personal message of support by emailing us at odimguatemala@gmail.com, with "Message for Josefa" in the subject line.
Photo credits: Anna Watts